Methods for Pike Fishing
Pike fishing can be done using several different methods. Some are old and others are new depending on your preference. As your fishing guides, we will advise you on the best method that will work best depending on the time of year.
Examples of Pike fishing methods include: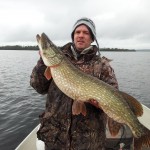 Trolling: A method which catches a lot of pike year round on Lough Derg. You can use artificial lures, soft rubber baits such as bulldogs or go for a reliable trolled dead bait such as roach mackerel or perch to land one of the big pike that regularly grow to over 25lbs or more.
Jerk Baiting: This is another method that is popular on Lough Derg but has only been adopted relatively recently by Irish fishermen. We can take you to the best drifts to locate fish where jerk baiting will provoke a savage take, some prefer this method as it is so visual and exciting to see a pike engulf your lure so close to the boat, especially in summer when fishing a surface lure like a frog imitation or a popper lure where the pike has to break the surface to take its prey. Heart stopping stuff!
Dead Baiting: This method employs anchoring your boat or fish from the shore with your dead baits, e.g: roach mackerel herring perch fishing them static on the bottom or float fishing them on the surface, both producing excellent catches giving you the chance to put your feet up, light a camp fire, have a beer and RELAX …until you start hearing the reel start to click then it's time to set the hooks into one of the many pike you can encounter using this method!
Fly Fishing for pike: Fly fishing for pike is becoming more popular in Ireland and in Lough Derg every year because of the challenge and skill needed to hook and land a fish on a fly rod. Techniques used by us as guides involve drifting over known pike lines and casting in a fan formation in front of a drifting boat. When takes come, they are explosive to say the least, some people saying it is the ultimate experience in pike fishing, when that rod in your hand bends double and the fish is on.
Methods for Trout Fishing
Fly Fishing for Trout: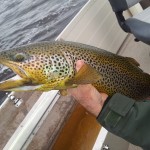 Wet Fly Fishing: This is a popular method on Lough Derg which involves fishing from a drifting boat covering the water in a fan shape in front as you drift. Shallow water three to four feet is very good in the spring time. As the spring moves into summer, deeper water produces the best results. Anglers usually fish a team of three to four flies on a mono leader employing the traditional wet fly method used on most Irish Loughs.
Dry Fly Fishing: This method of trout fishing is also very popular on Lough Derg especially during the mayfly season which starts late April on Lough Derg. Trout can be taken off the surface using imitation mayflies when the insects are hatching or when the insects return to the water to lay their eggs. Dry fly fishing is thought by some to be the ultimate challenge in their fishing career and you will see why when you hook one of those spotted beauties on a dry fly rod and the line starts to scream away into the depths of Lough Derg.
Trolling For Trout
Trolling for trout involves trolling 2 or 3 lures behind a moving boat covering a lot of water in a day. It is very popular method in Ireland and L.Derg with large numbers recorded every year. Spring and late summer are the peak months. Local competitions are run throughout the year and great fun can be had by all when taking part in these competitions which can be arranged by your guide. Prize givings are often held in local bars where you can always tell about the one that got away!! It was this big!!
Deep Water Trolling
Deep water trolling for large ferox trout. The ferox trout range in weight from 8 to 15 lbs and are normally taken on dead roach perch. These particular trout are native brown trout that have come to feed almost exclusively on smaller prey fish such as roach, perch and also smaller brown trout, by doing so they reach very big weights.
These big trout, that can grow well over 15lbs in weight, are mostly caught on trolled dead baits roach, perch etc. The best times for catching these specimen fish are spring to late summer when out on the lake early morning and evening when they come to feed.
Fishing a trolled dead bait just off the main channel of the river and any structure where prey fish shoal up usually produces the best results. Calm days on the lake, for some reason, are a very good time to target these fish.
Methods for Perch Fishing
Jigging, vertical, dropshot fishing: Perch fishing is great fun because of the numbers you can get, be it jigging or trolling or spinning. Jigging involves bottom fishing artificial lures or soft baits importing a jigging action through the rod tip. Perch attack these baits with fury as they are a territorial fish. Trolling for perch is the same method employed for trout trolling and spinning for perch with lures is another popular method.