PIKE (Esox lucius)
Ireland is home to some of the best pike fishing in Europe. We held the European record for many years with a catch of 53lbs. (24kg) recorded in 1920 on Lough Conn. (The current record is held by Germany for 55lbs 1oz (25kg)). Lough Derg too is home to many pike as the natural food supply is plentiful and the lake is not artificially stocked. Artificial stocking of large pike rarely succeeds as they dislike pressure and tend to lose weight and die.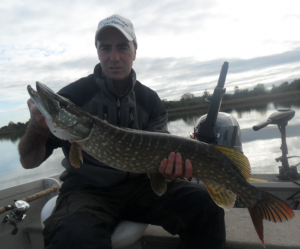 With its rows of razor-sharp teeth pike makes little work of its prey which include small fish, frogs and even waterfowl. It has earned its fearsome reputation as an exceptional hunter by using its sense of sight, smell and touch to track down its target and then its speed to catch them.  It loves the thrill of the chase and can be easily goaded into attacking even when not hungry.
Pike is one of the most popular sporting fish as it puts up a good fight. You will need strong tackle to catch this fish.
Pike fishing can take place all year round in Ireland as there are no statutory prohibitions. They can be fished in winter as they will feed in difficult conditions when nothing else will.